About Corrina Rose Logston
"Prepare to be amused, moved, inspired, and entertained – because I'm here to tell you that, all of her other talents aside, Corrina Rose Logston is already one of the most dazzling songwriters working in bluegrass today."
-Jon Weisberger, 2012 IBMA Songwriter of the Year
At a Glance
Fiddler, singer, songwriter, and creative enthusiast, Corrina Rose Logston is a fresh, exciting force in music today. She is most widely known for her lively and versatile fiddling and tenor singing rooted in traditional bluegrass music. She has performed regularly with David Peterson & 1946 and Chris Henry & the Hardcore Grass, among many other artists and bands in her freelancing. She's worked with artists such as Jim Lauderdale, Jesse McReynolds, Melvin Goins, and the McCormick Brothers, and she's guested on stage with the likes of Del McCoury, Peter Rowan, Alison Krauss, Charlie Louvin, and Bobby Osborne. A 2012 graduate of Belmont University, Corrina placed 1st in the Bluegrass Fiddle category at the Galax Old Fiddlers' Convention of the same year. Corrina currently pursues her freelance fiddling/singing alongside songwriting and development of her own unique music, as well as performs regularly in the award-winning traditional bluegrass band she helped create, High Fidelity.
Background
Corrina was born and raised about 40 miles south of St. Louis, Missouri, near the town of Red Bud, Illinois. Corrina's parents, both ardent bluegrass fans who had their own band in the 1980s, always had a record or cassette playing while Corrina was growing up. ""My first favorite record, when I was 3 years old, was Jim & Jesse's In The Tradition," Corrina says, "but my first favorite singer was a toss up between Jim McReynolds and Del McCoury."
Corrina began playing guitar when she was around 8 years old and started picking banjo shortly after that, jamming with her parents and occasionally in local jam sessions, but interest was by and large fickle. When her parents revived their band in her early teens, Corrina's interest in playing became greater.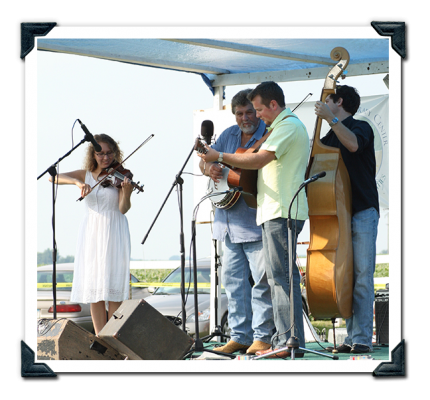 On her 14th birthday, Corrina received a fiddle.
"I really didn't know what to say when I got the fiddle," admits Corrina, "cause I was kind of hoping for a Fender Stratocaster."
Nevertheless, there was a fiddle.
"I was into a lot of different things at the time. I was playing punk rock guitar half the time and Don Reno banjo the other. But I thought since I had it, I'd give the fiddle a try."