Debut High Fidelity Album Released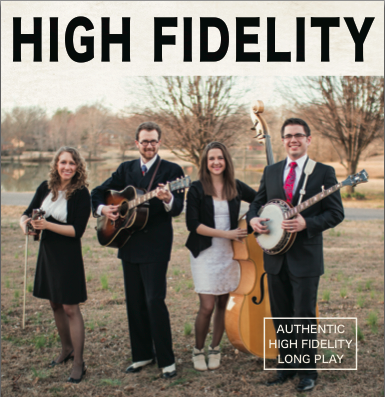 Traditional bluegrass band High Fidelity has just released their debut album. The self-titled release features 13 tracks of straight-ahead traditional bluegrass. The record for the most part showcases the band in four-piece fashion, with Jeremy Stephens on guitar and vocals, Corrina Rose Logston on fiddle and vocals, Kurt Stephenson on banjo and vocals, and Vickie Vaughn on bass. Mandolinist Daniel Amick contributes on a handful of selections. All songs were cut live in one room with minimal isolation, similar to how recording was done by the first generation bluegrass pioneers whom the band draws its inspiration from.
High Fidelity formed in 2014 and won the 2014 SPBGMA International Band Championship. They are performing a select number of dates in 2016. For purchasing information on their new album, contact High Fidelity at highfidelitybluegrass@gmail.com. Visit High Fidelity on Facebook at www.facebook.com/highfidelitybluegrass and on Twitter at www.twitter.com/highfidelitybg.